On Bank Holiday Monday, 2nd May 2022, at the spectacular Landing Forty-Two on the 42nd floor of the Cheesegrater, we will be hosting a Chand Raat event with a fulsome feast over London's skyline at sunset.
We have thrown many Iftar and Eid celebrations over the years. From small get-togethers in the basement of Dishoom Covent Garden and an entirely halal street food event at Dinerama, to a big outdoor bash on Lewis Cubitt Square in King's Cross, attended by 2000 guests. This year's event will be slightly different as we'll be celebrating Chand Raat, when the sighting of the new moon marks the end of the holy month of Ramadan, with a totally unforgettable, beyond awesome event.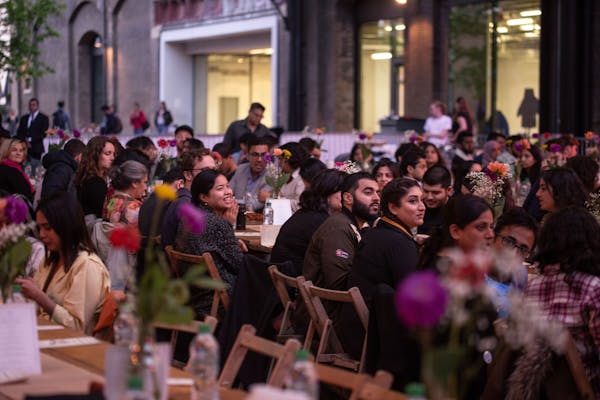 The meaning of Chand Raat
Chand Raat (the night of the moon) is the evening or moment the first crescent moon of the month is observed. It marks the end of Ramadan, a period of fasting, prayer and reflection, and the start of Eid, the beginning of great festivities – and of course, the copious amounts of delicious food that comes with them. 
The evening is filled with last-minute visits to tailors, adding the finishing touches to the brand-new outfits customarily worn at Eid; a trip to the barber may also be in order. The atmosphere buzzes with the chatter of cousins and friends decorating one another's hands with intricate henna patterns; the air is scented with seductive aromas emanating from the kitchen, as the Eid feast is prepared.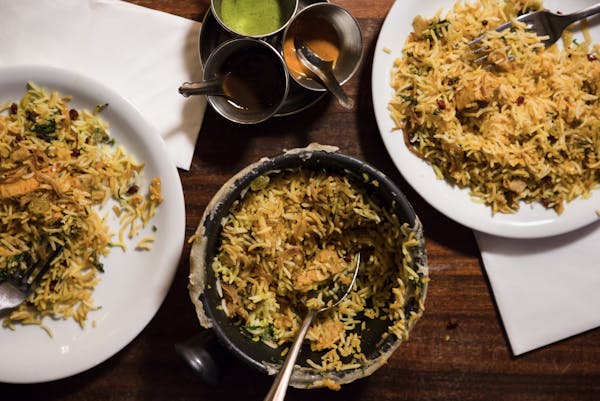 Dishoom's Chand Raat Event
Our event invites people from all faiths and walks of life, whether fasting or not, to come together for a unique feast overlooking the city skyline at sunset. All proceeds from the event will go to our long-term charity partner, The Akshaya Patra Foundation in India, honouring the Islamic tradition of zakat (charitable giving), which is central to Ramadan.
Join our co-founders Shamil and Kavi Thakrar, and Executive Chef Naved Nasir for an evening of celebration, first-class food and music. At the prescribed times for sunset, fast will be broken together over thalis of delicious snacks against a backdrop of the sweeping city view. The call to prayer will be led by Hassen Rasool, a leading spiritual vocalist, after which you'll be seated at long sharing tables for a communal feast of sumptuous Dishoom dishes. There will also be a headline live performance from Chand Ali Khan Qawwal & Party, a renowned group specialising in the sacred art form of qawwali music.
Tickets are now sold out
Important information for ticket holders
- Kindly note that food will be served buffet style. Both meat and vegetarian options will be available on the evening. If you have any food allergies or dietary requirements please let us know ahead of the event by emailing events@dishoom.com. Vegan and gluten-free options can be made available. Unfortunately, we may not be able to cater for all dietary requirements and allergies. All allergens will be displayed at the event, and we will make every effort to avoid cross-contamination but sadly can't guarantee dishes and drinks are allergen-free.
- The venue is fully accessible and wheelchair friendly. Kindly note that the venue is accessible exclusively via lift.
- As the date of Chand Raat is dependent on the sighting of the new moon, it may transpire that this event in fact falls on Eid, rather than Chand Raat. If this is the case, we will proceed as planned on 2nd May – the date of this event will not change. However, fasting before sunset will not be observed.
- Children are very welcome at the event, however, they will require a full-priced ticket to attend.
- Tickets are non-refundable.
- Dogs are not permitted at this event.