~
Reservations
Dishoom Birmingham will officially open on 6th August. Before then, you're invited to attend the soft launch (50% off food) from 9am on Saturday 18th July until Wednesday 5th August.
CRISP AND ORGANISED, Roda Irani leads her daughter through the narrow gullies of Swadeshi Market. "Come, let us get to the café."
They begin to walk the length of the market, shoulder to hip. Each gully is lined with stalls separated by thin partitions or simple thick cloth. Roda and Farah navigate past shoppers haggling over the price of scissors, padlocks, bolts of cloth – an array of products with one thing in common: all made by Indian hands on Indian soil.
Weaving through the hubbub, Roda exchanges nods and namastes with traders. Many of them have known her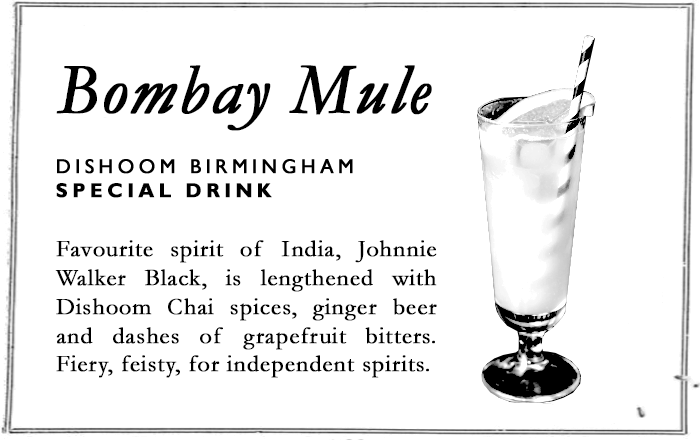 since she was a young girl when she'd visit them with her father. "Keep up, beti, keep up!" her father would say over his shoulder, her chappals scraping the concrete as she tried to walk faster.
Roda had adored her father and still found it hard to accept that he was no longer with them. And at that moment, as she found herself staring at some new and unfamiliar signboard hung above a stall, the depth of a sudden sadness was too much for her and she stopped walking. Her daughter looked at her, puzzled.
She was taken vividly back to her childhood. As a shopkeeper's daughter she had grown up here amongst these stalls. Her father opened the street-corner shop back in 1910, stocking so many various provisions: medicines, hair oil, talcum powder, cloth, nutcrackers...