GUNPOWDER POTATOES
A feisty dish of new potatoes grilled, broken apart then tossed with toasted spices, fresh green chillies, spring onions and coriander.
Serves 4 as a side
Ingredients
500g baby new potatoes
½ tsp cumin seeds
½ tsp coriander seeds
½ tsp fennel seeds
1 tbsp vegetable oil, for basting
25g butter, melted
6 spring onions, finely chopped
5g coriander leaves, finely chopped
3 green chillies, very finely chopped
½ tsp flaky sea salt
30ml lime juice
1–2 tsp kabab masala 
Method
Bring a large pan of salted water to the boil. Add the potatoes and cook until just tender, 12–15 minutes, depending on size.
Meanwhile, add the cumin, coriander and fennel seeds to a hot dry frying pan and toast for 2 minutes until fragrant. Crush the toasted seeds, using a pestle and mortar; set aside.
Heat the grill to high.
Drain the potatoes and allow them to steam-dry in the colander for a minute.
Place the potatoes on a sturdy baking tray. Brush or sprinkle them with some oil and grill until the upper side is crispy and evenly browned, about 5–7 minutes. Turn the potatoes over and repeat to crisp and colour the other side.
Meanwhile, put the crushed toasted spices into a large bowl and add the melted butter, spring onions, coriander and chillies.
When the potatoes are thoroughly browned and crisped, remove them from the grill and divide each one in half, using a metal spoon so that you create nice rough edges. Put them straight into the bowl containing the other ingredients and toss until everything is well combined.
Add the sea salt, lime juice and at least 1 tsp kabab masala and mix again. Taste for seasoning and add more kabab masala and/or salt if required, then serve.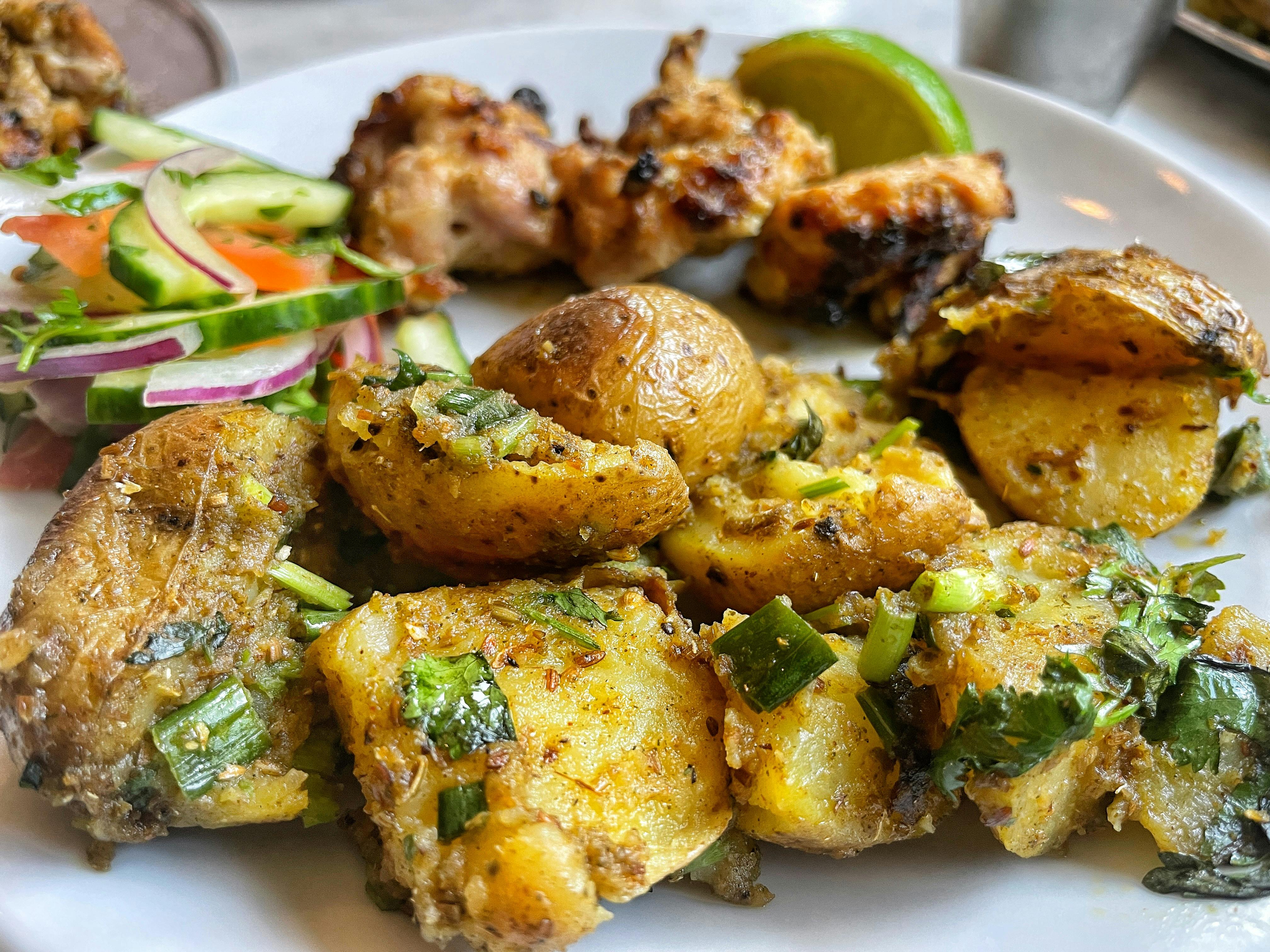 CHILLI BROCCOLI SALAD
This salad has plenty of bite thanks to vibrant broccoli and red chilli, while plump Medjool dates add a delectable sweetness. Mint for freshness, the crunch of pumpkin seeds and toasted pistachios, dressed up in a zesty lime and honey dressing to finish.
Serves 2 as a side
Ingredients
1 small broccoli head
75g roasted pistachio nuts
¾ fresh red chilli
25 coriander leaves
4–5 mint leaves
25g roasted pumpkin seeds
25g Medjool dates
Salt, to taste
45g lime & chilli dressing
1 lime wedge
For the lime & chilli dressing
25ml lime juice
4​​–5 thin slices of ginger
1¼ small green chilli
½ tsp fine sea salt
19g granulated sugar
12ml rice vinegar
75ml mild olive oil or vegetable oil
A few mint leaves
Method
Wash the broccoli, dry and chop into small morsels. Crush the pistachios very lightly, using a pestle and mortar. Finely chop the red chilli and tear the coriander and mint leaves. Place everything in a large bowl.
Pull the dates in half with your fingers, discard the stone, then slice each half into quarters and add to the bowl. (If your dates are very sticky, handle them with slightly wet fingers; the water will encourage the fruit not to stick to itself.)
Pour over the lime and chilli dressing (please kindly see below for the particulars on how to prepare this). Toss everything together and scatter over the roasted pumpkin seeds. Squeeze lime over the salad and use a wedge to garnish.
To make the lime & chilli dressing
Blitz the ingredients together, using a mini food processor or stick blender, until completely homogenised.
The leftover dressing will keep in the fridge for 3–4 days. It will work brilliantly on any salad or green vegetables, and is also delicious drizzled over ripe avocado or served with grilled fish.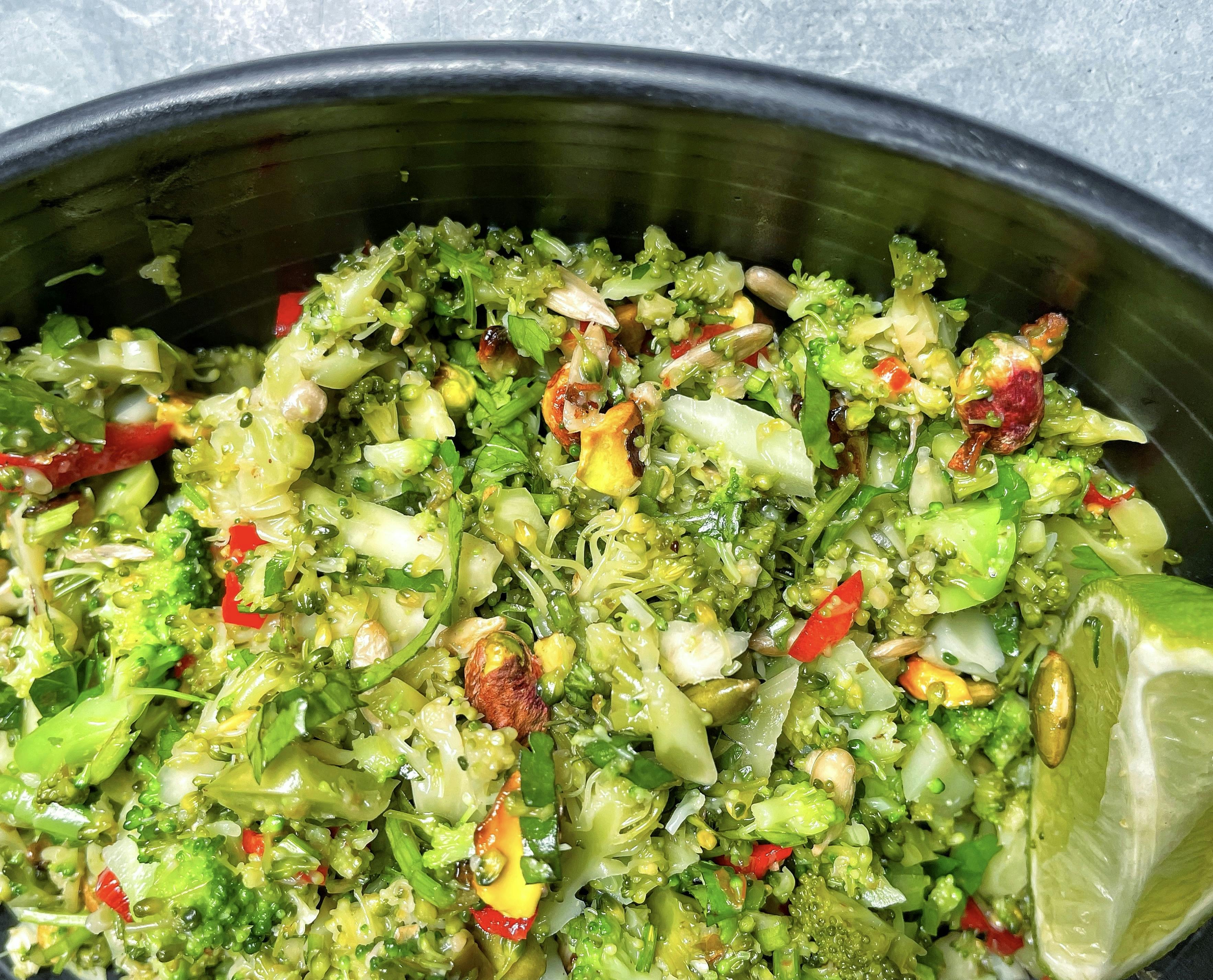 KACHUMBER
A messy to-do of cucumber, onion and tomato. A little lime lifts the whole affair.
Serves 2
Ingredients
1 small red onion
½ cucumber
1 tomato
20 coriander leaves
Juice of ½ lime
A generous pinch of fine sea salt or ½ tsp kabab masala
Method
Peel and finely slice the onion. Place into a bowl, cover with cold water and let it sit while you prepare the rest of the Kachumber.
Cut the cucumber in half lengthways. Slice across the diagonal into elegant half moons. Dice the tomato, removing the seeds first if you wish.
Drain the onions and blot with kitchen paper to remove excess water. Place the tomato, cucumber and onions in a serving bowl. 
Pick half of the coriander leaves, chop and add to the bowl. Sprinkle it with sea salt or kabab masala and mix together. 
Dress the salad with the lime juice, mix well and serve.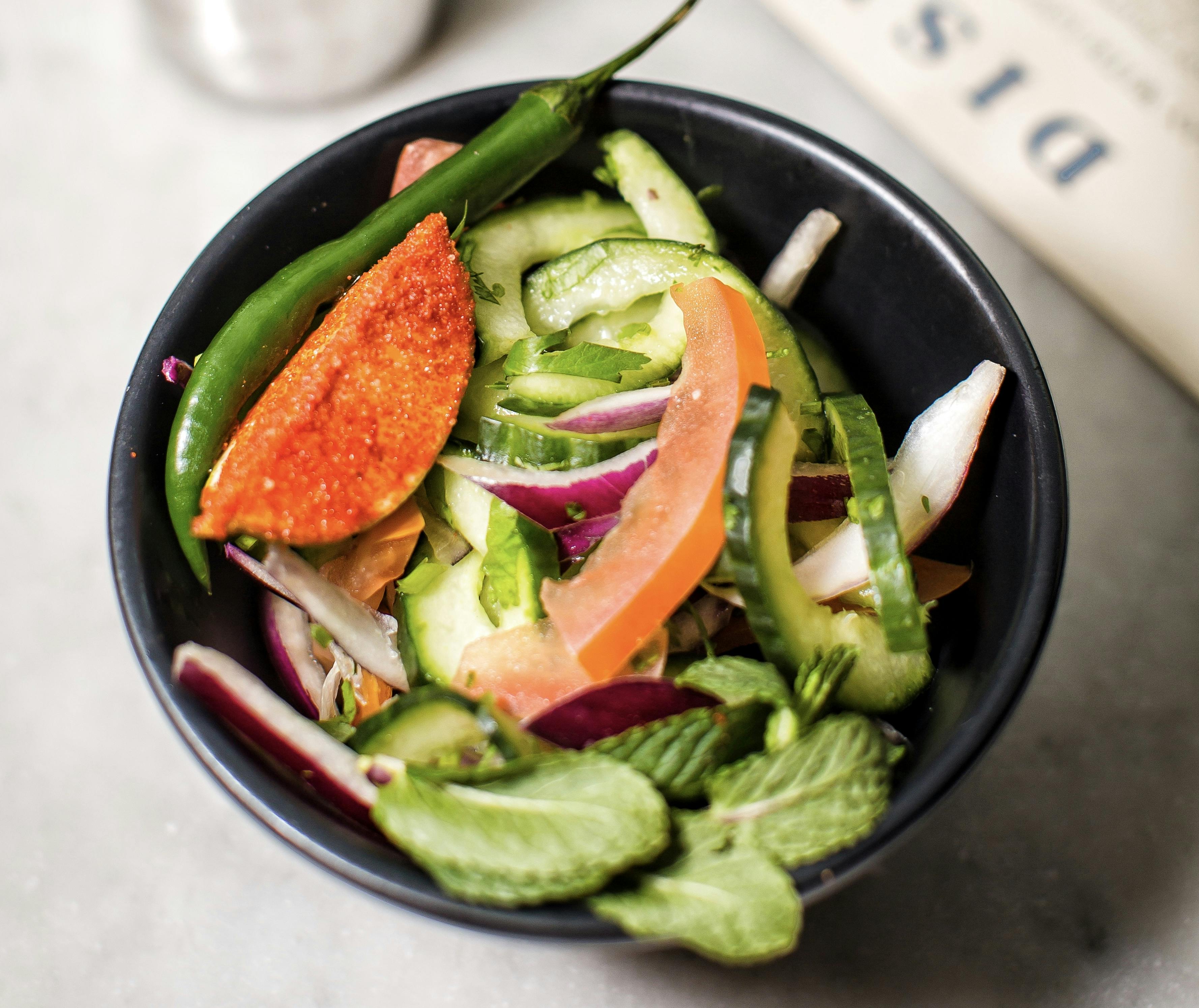 CORIANDER-MINT CHUTNEY
In Bombay, vibrantly fresh green chutney is very often served with hot grills, for dipping and daubing as you see fit. This fresh yet slightly spicy one is most fine and moreish.
Makes 70g
Ingredients
½ tsp cumin seeds
20g coriander leaves and stems
20g mint leaves
1 tsp granulated sugar
5g green chilli (1–2), roughly chopped
25ml lime juice
Method
Warm a dry frying pan over a medium-high heat. Add the cumin seeds, toast for 2–3 minutes then tip onto a plate and leave to cool.
Using a mini food processor or stick blender, blitz all the ingredients together with 25ml water until smooth. Transfer to a jar, unless serving straight away.
The chutney will keep for 1–2 days in the fridge, though it will lose colour as it oxidises – press cling film onto the surface, before putting the lid on, to deter oxidation.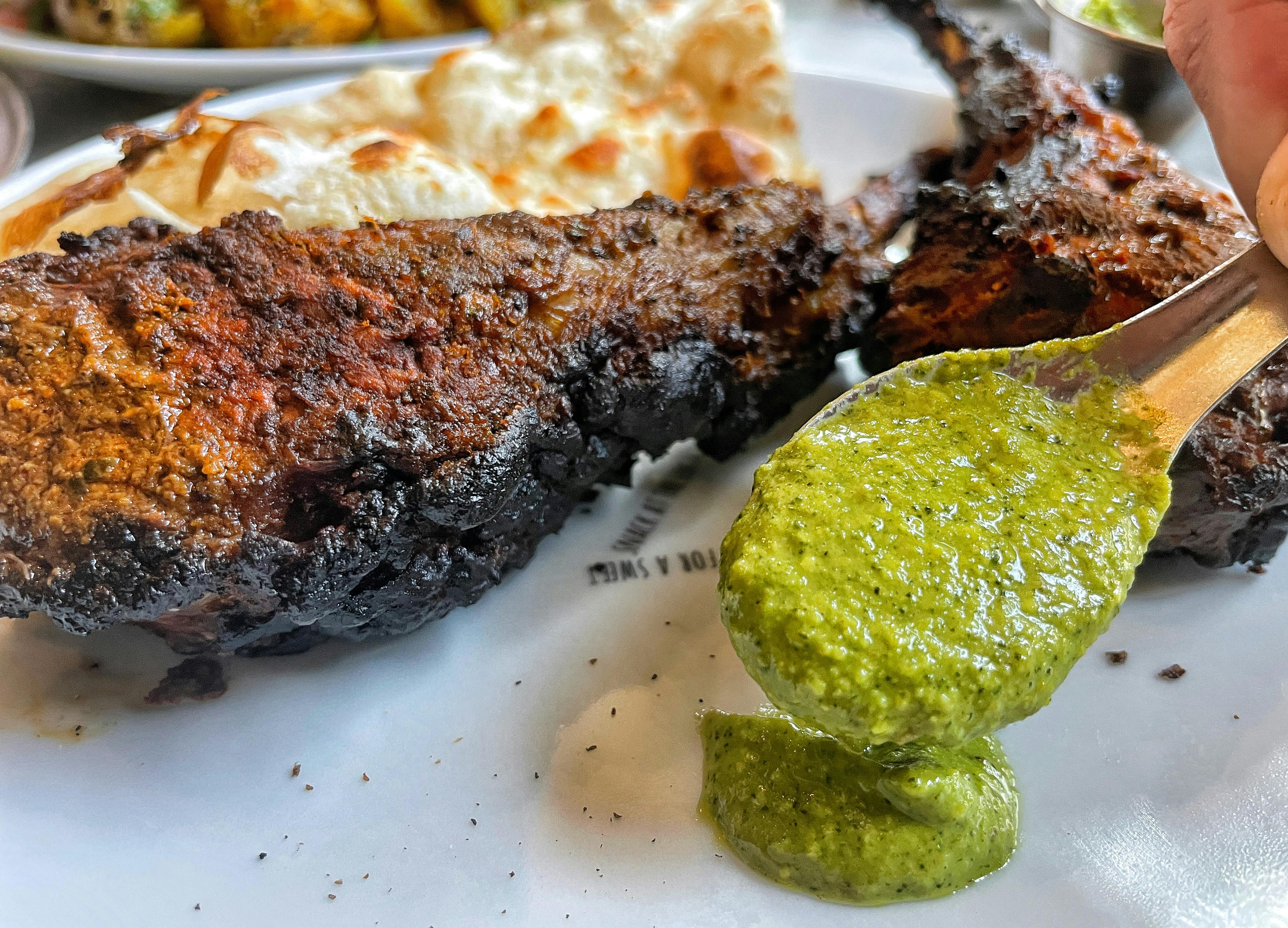 Order your Summer Barbecue Box here, or for other Dishoom recipes, please see Dishoom: from Bombay with love, our cookery book and highly subjective guide to Bombay.